Budding Nigerian recording artistes, Ruger and Buju, otherwise known as BNXN have come for each other once again after the duo traded insults on Twitter.
During the late hours of Wednesday, 23rd November 2022, Nigerian Dancehall maestro, Ruger felt it right to let some pending matters off his chest on Twiiter. 
Apparently, Ruger took to Twitter to shade an artist whose song is not good enough to inspire organic consumption but always resorts to using influencers to promote their songs in an attempt to force it into the ears of consumption.
"I am something. For years now, I have forced my songs down people's throat whether e sweet abi e no sweet either by too much ads or by paying every influencer to make noise about a song they don't even like. Or by speeding my song on TIKTOK. WHAT AM I ?"
However, the tweet was not directed at any artiste in particular, but it appears as an insult to the entire music industry as the strategy in question is employed by many artistes.
This sub did not sit well with BNXN who immediately called him out for insulting a man who fed his boss. Ruger immediately replied him, asking him to mind his business which led to even more drama between the two artistes.
"Biting the fingers of the hand that fed your boss enough to feed you ?? Even when you and your boss use the same strategy?? After all those streaming-farm payments?"
BNXN was not done as he revealed that there existed streaming farms in Nigeria where artists pay to get automated streams. He said the process was devoid of real fans or real people, and it was all a facade.
"There are streaming farms in Nigeria now. A room where your label bosses pay money to get your songs up by automation, no real fans, no real people, just a facade. Y'all make the people who really work for this bleed and your day is coming. Enikure"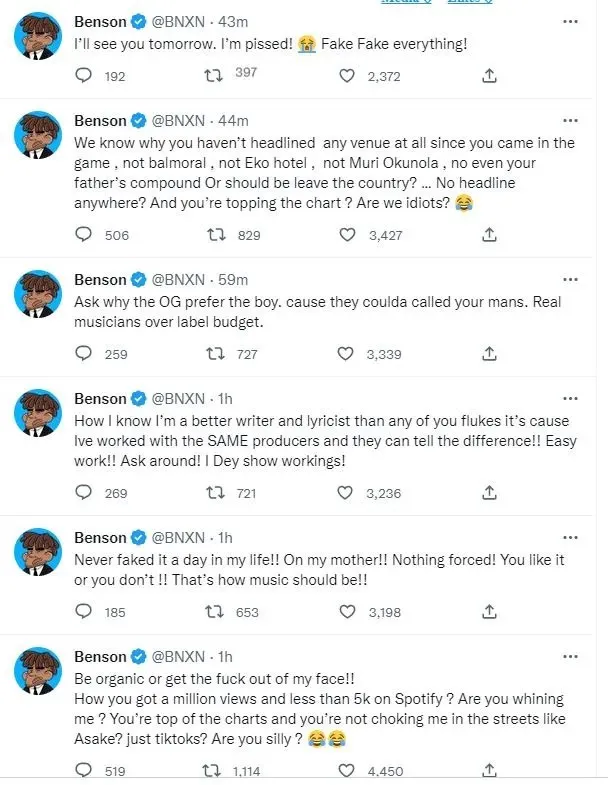 Meanwhile, Ruger returned the shade by asking Buju to list 5 of his hit songs.
The recent altercation is coming months after Ruger claimed BNXN had no solo hit and the statement sparked a war of words between the musicians.